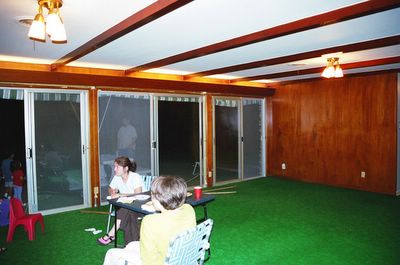 The lovely wood, the nasty green. Friends.

This was taken the day we closed - a bunch of friends came over, we ordered pizza, drank wine, and the kids ran wild - in short, it was a blast.
No picture really does that carpet justice, though.
Anyway - the money. The buffer. The money let us do some quick fixes like replace all of the carpeting and electrical wiring and install a new dishwasher etc. Down the road, we hope to build an outside dining area, install a propane tank so we can cook with gas (OMG the electric stovetop and oven are truly not pleasant) and change out the kitchen and laundry room floor. Plus, build a fence to keep the deer out and the dog in.
I sound so rural, so country. So not me.
It's pretty weird having these new considerations - propane, deer. Blind snakes (more on those later) and pet spiders. Daddy Longlegs in such quantities that they pulsate.
I'm grateful for it all. Grateful for the new-to-me house, the incredible community, the fresh air and bird calls, the snakes and spiders and large carpenter ants, the rabbits and deer and foxes, the extra money...the new life we've been granted. All while getting to stay in Austin, Texas.
Thanks.
-s